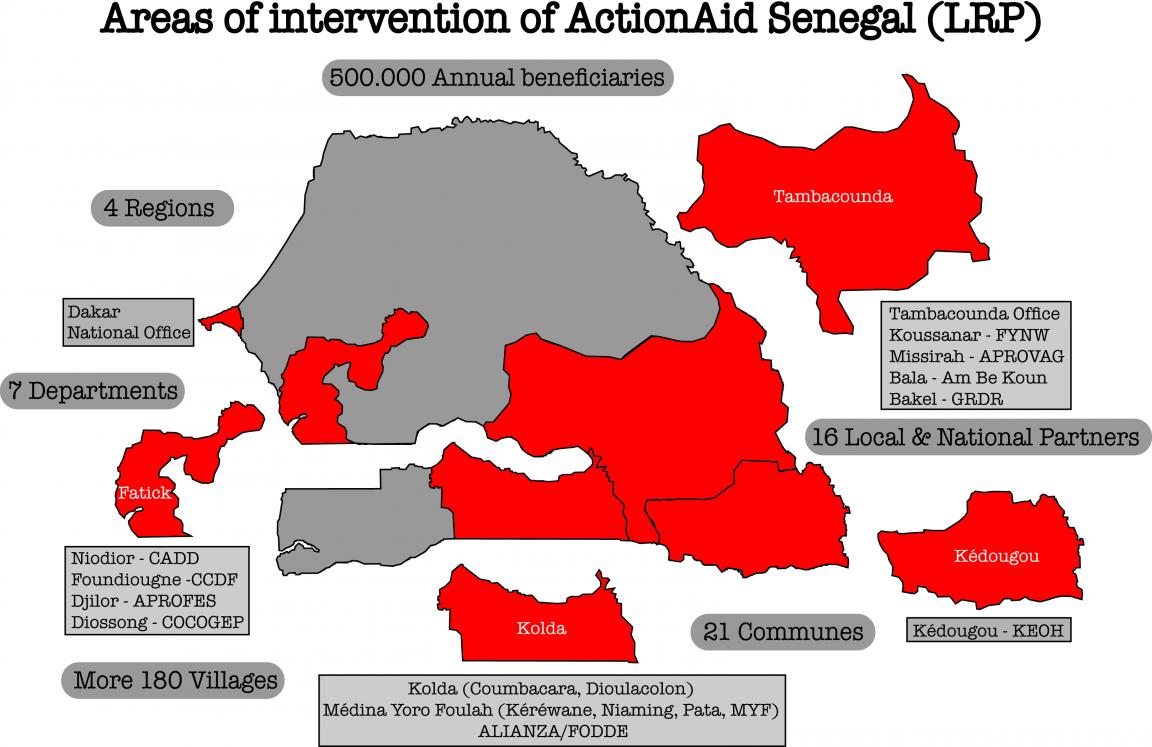 Country profile: ActionAid Senegal
Who we are
ActionAid Senegal (AAS) has been operating in Senegal since 2001. Over the last decade, ActionAid has built a recognized niche for addressing inequalities of power with people living in poverty with specific focus on women's rights and application of human rights-based approach and feminist analysis to development in Senegal.
Vision and Mission
A just, equitable and sustainable world in which every person enjoys the right to a life of dignity, freedom from poverty and all forms of oppression.
To achieve social justice, gender equality, and poverty eradication by working with people living in poverty and exclusion, their communities, people's organisations, activists, social movements and supporters.
ActionAid Senegal is part of the AA Federation and started work in Senegal in year 2000, focusing on three out of the 14 regions of Senegal (Fatick, Tambacounda and Kedougou) covering five out of the 45 Departments (Foundiougne, Tambacounda, Bakel, Kedougou and Goudiry) in nine localities (Djilor, Niodior, Foundiougne, Diossong, Koussanar, Missirah, Bala, Kedougou and Bakel) covering 160 communities. ActionAid is a global justice federation working to achieve social justice, gender equality and poverty eradication. In Senegal, ActionAid works to strengthen the capacity and agency of people living in poverty and exclusion, especially women, to assert their rights. We work with communities, people's organisations, women's movements, farmers' movements, other social movements, groups and networks and other allies to overcome the structural causes and consequences of poverty and injustice. We connect the work we do at community level with broader efforts and struggles for justice at national and global levels to make the greatest contribution towards a just, equitable and sustainable world.
Country Strategic Paper Priorities (2018-2022)
Priority 1: Increased recognition of the impact of negative gender norms on the rights of girls and women in three regions of Senegal
Priority 2: Communities tackle two social barriers that limit girls' access to education in three regions of Senegal.
Priority 3: Promote women's economic empowerment through the elimination of gender norms that limit their rights to sustainable management of natural resources
Staffing
AAS has total number of Staff 14 comprising of 7 females and 7 males. 4 consultants
Senior Management Team Members
Zakaria Sambakhe - Country Director
El Hadji Sidy Dieye - Finance Compliance Manager
Nathaly Soumahoro - Policy and Partnership Manager.
Kalifa Bojang - Business Development Manager
Our Programming Approach
In alignment to the ActionAid Global Strategy – Action for Global Justice( 2018- 2028), our work will aim to address the three Rs of Rights, Resilience and Redistribution, empowering women and girls to build their social, economic and political resilience to withstand shocks and push for redistribution of power and resources so they can realise their rights. We will continue to use the Human Rights Based Approach and will work with women to build their capacity and diversify their own livelihoods, including promoting agroecological and value chain approaches that are resilient to climate change.
Through Reflection Action Circles, we will build women's leadership political, economic and social capacity to be champions of the change they want and increase their policy and economic literacy, so they can engage with decision-makers. We will strengthen our work with social movements and government, building on already existing partnerships with the Senegalese Social Forum, CNCR (National farmer's movement), AJS (Federation of Senegalese Females Lawyers), COSYDEP (CSO coalition for Public Education), and ACTIVISTA, among others. 
We will also engage in active learning, documentation and sharing with the aim of promoting the upscale of viable alternatives. Our work with social movements and other regional non-state actors will feed into the influencing agendas targeting ECOWAS, AU and UEMOA (West African. AAS will be working in Priorities 1, 2 and 3 and will therefore be active in the international platforms coordinating the work on these priorities.